Building a SaaS product that works is already a daunting task.
Imagine juggling one place to the other to onboard competent product managers, sending out sets upon sets of surveys and reviews to dig out customer needs, and finally throwing in thousands or possibly hundreds of thousands of bucks just to develop a final product that moves the market.
But this is not even the biggest roadblock to pushing your product for success.
Ask any SaaS mogul. Marketing your product to the right audience is the real problem! This is true, especially if you have a very tight budget and too few funding sources to always run a large, consistent advertisement – a common SaaS problem and source of most startup failures.
Talking to an expert on the other end (that's me), though, I personally believe you can still scale your SaaS marketing even with minimal capital. At Digital Gratified, we've done this for several tens of SaaS businesses, and their results are our badge.
And just so you know, you can start a great campaign with just $5,000.
Start With SaaS Content Marketing – Copywriting
Here is a common line, "People can't buy your product if they don't know about it."
And the best, cheapest way to get the word out there for awareness is through content marketing.
Okay, note this. Content marketing does not involve hiring $5 writers and asking them to regurgitate content info that's already on the internet. It involves creating a content strategy, developing briefs, and working with writers that can incorporate value, your brand voice, and a unique charm to each piece.
Talking about a writer that fits into the category above – the best person would be you. You know your product inside out and can craft this experience into a storytelling piece that captivates your readers.
However, if you still prefer to freelance or hire a copywriter, here is what the cost would be:
Charges by an expert for writing 1500 words (Fiverr, Upwork, etc.) article = $150 – $180.
Charges by our expert for writing 1500 words (Digital Gratified) article = $60 – $80.
Therefore, the cost of copywriting 20,000 words of quality content a month would be approximately $1,000.
Of course, hiring a full-time copywriter would be more costly. As per the current market trend, a good US copywriter charges $5,000 – $10,000 per month for a full-time job. And believe me, it's super challenging to find a GOOD copywriter, that too for a full-time job.
Extra Tip: Load Up Your Website With Relevant Content Before Product Launch
Most SaaS startups make the mistake of launching their website alongside the product. Actually, you should be doing the opposite.
Months before launching your product, your website should already be out there on the internet. The more authority your website builds through blog pieces and other content, the easier it is for your product to gain some traction immediately after launch – without spending an additional dime.
A good example of a bootstrapped SaaS that used this technique is: Respona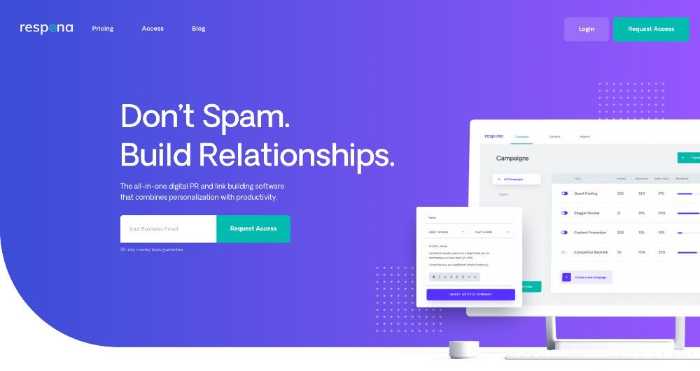 Respona didn't just create blog pages; they provided early access to their beta version. This approach helped them get user feedback and ideas on how they can improve their product.
Also, in their beta launch, they offered a free onboarding session where they communicated with their customers to understand their use cases and pain points.
Consult An SEO Expert – Technical & On-Page SEO
At the early stage of your SaaS business, you don't necessarily need to invest in everyday SEO consultations, technical audits, and super serious on-page optimizations. They help but are not efficient since you only have a few pieces of content in place.
Moreover, you might do more breaking than building, especially if you have little knowledge of SEO or a limited budget to hire SEO professionals.
Alternatively, scheduling an hourly consultation with SaaS SEO professionals or SaaS marketing agencies like Digital Gratified once or twice a month would be more than enough. For one, it's cheaper.
Digital Gratified charges $0 for the first SEO Consultation.
Consecutive SEO consultations cost $500 – $600 a month.
$150 / hour for SEO audit (3 – 4 hours for a new startup).
In an SEO Consultation, some of the things that will be sorted out include:
Your target goals.
SEO strategy tailored for you only.
SaaS keyword research and the terms you should target.
How you should be targeting these keywords.
Technical SEO issues that need to be solved for a better user experience,
Other basic SaaS SEO services.
Power Up Your SaaS Content Marketing – Link Building
Link building is a process of acquiring hyperlinks from other websites to your website. The main aim behind building links is to improve the search engine ranking of your website so that it can get more organic traffic.
At Digital Gratified, we have worked with more than 100 SaaS businesses, and in our experience, there is no way for your SEO and SaaS Content Marketing efforts to fail if:

Your product is really great,
You are targeting the right keywords,
You write high-quality content,
And you have a powerful link building strategy.
Now, this is where you would need to invest the most. It doesn't matter how good your content is and how perfect your SaaS website's technical and on-page SEO is; without good backlinks, it is almost impossible to rank your content on high competitive keywords.
When I talk about SaaS link building, it's not limited to getting backlinks from high-quality, relevant domains. There are also product/business listings and PRs – and rarely link exchange SEO – among many other whitehat link building services.
Product / Business Listings
This is just listing your product / business on domains like G2, ProductHunt, etc. Users use such platforms for reviewing a product or choosing the right SaaS as per their needs.
Interestingly, product/business listing costs nothing mostly but a few hours of effort. There might be some platforms asking for monthly subscription charges to get listed; however, the cost is usually minimal.
Monthly expense to be $80 – $100.
Press Releases
A press release is publishing an article about your SaaS on top sites like Forbes. This particularly helps in branding.
From an SEO perspective, links from such websites help build website authority rather than directly helping in ranking a keyword.
PR articles cost around $1,000 – $15,000 a PR.
Therefore, if you go with 4 medium to high quality PRs a year, your annual cost for PRs would be $4,000 – $6,000, which means, approximately $400 a month.
Links From Relevant High-Quality SaaS Domains
If you want to rank your SaaS for the targeted keywords, then it is important that you get links from high-quality SaaS websites, not just any website.
For example, if you have a project management tool, then getting a link from a website like learn.g2.com or blog.hubspot.com would do wonders for your rankings.
Extra Tip: You can always find websites relevant to your brand by conducting a competitor backlinks analysis.
But such links don't come for free; you need to either help the website to get a backlink from a good website or offer them something else valuable in return. For example, you can write an article on their blog in return for a link, or maybe even more than that.
The cost of relevant, high-quality links ranges from $100 – $600+.
The best approach is to build at least 15 backlinks a month in the remaining budget of approximately $3,000.
Here is a guide to calculate your link building cost. You can also use our link building cost calculator and SEO cost calculator to estimate your expenses.
Disclaimer: These Are Not The Only Expenses
There are other expenses like website hosting, email marketing, customer support, development, etc. However, when it comes to SaaS marketing using SEO and good content, $5,000 is more than enough for a start.
In fact, we have seen businesses doing great with a budget of less than $5,000 as well.
Key Takeaways
We've gone over the nitty-gritty of bootstrapping your SaaS business with a limited budget, and here are the key points:
SEO and content marketing are essential for SaaS businesses that want to scale their organic traffic and SaaS lead generation results.
The cost of SEO and content marketing varies depending on the size and scope of your project. However, you can expect to spend $500 – $600 a month on SEO, $80 – $100 a month on product listings, and $400 a month on press releases.
Link building is the most important part of SEO and can cost anywhere from $100 – $600+ per link. You should aim to build at least 15 links per month (which can cost you up to $3,000 per month).