When it comes to affordable link building agencies for SaaS, there are a lot of agencies out there vying for your business. But how do you know which one is the best fit for your company? To help you make an informed decision, we analyzed some of the best link building agencies for SaaS and compared them based on key factors such as pricing, services offered, and client satisfaction.
#1 Link Building Agency: Digital Gratified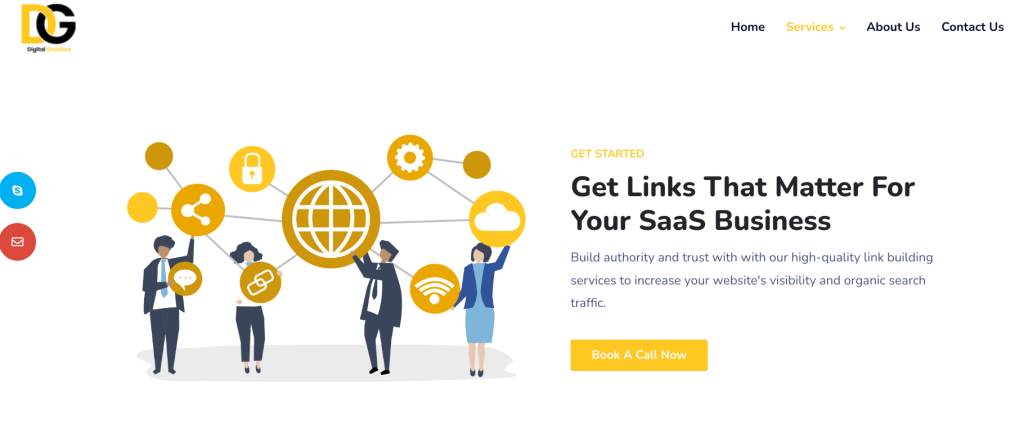 Digital Gratified is a top SaaS link building agency with several hundreds of clients like SE Ranking, BrushGalaxy, Engagebay, NinjaReports, CloudTalk, SlideModel, Hostinger, etc. They have dozens of specialized experts in different marketing niches to help you boost your website traffic and build digital PR while you get to focus on other vital tasks.
Core Services And Approach
Some of the core Digital Gratified services include:
Website Audit
Email Outreaching
Content marketing
Digital Gratified acquires top-quality links even from reputable companies like Hubspot and ActiveCampaign through different link building strategies. Using natural anchor texts or niche edits, they can quickly build a solid and relevant profile of backlinks for your website.
Pricing
Digital Gratified offers fully customized link building plans, starting from $150 per link. And each link comes from a website with a DR of at least 70. Other services like SaaS SEO start at $4730 monthly and contain 25x long-form blog posts, 3x guest posts, 10x SaaS backlinks from websites with DR of 70+, and 1x website audit.
What We Like
First off, Digital Gratified's plans are jaw-droppingly inexpensive, starting from $150 only. Also, the Digital Gratified team religiously scrutinizes every link coming to your website and eliminates those with even the tiniest spam score. That way, your website doesn't get dragged down by blacklisted websites.
What We Don't Like
If you are looking for an agency that can help you build links through HARO, then Digital Gratified is definitely not the right place for you.
Client Satisfaction: 4.9/5 ⭐
#2 Link Building Agency: uSERP
uSERP is a rated digital PR and SaaS link building agency with tons of records with big companies like Monday and Crowdstrike. They create link building opportunities via editorial mentions on high-yield publications.
Core Services
uSERP offers only a few services including:
Link building
Digital PR
SEO services
Content marketing
Pricing
uSERP has two main packages – link building package and link building plus content package. The link building package starts at $10,000 to $20,000 per month for 10x to 24x editorial mentions on sites with a DR of at least 60. As for the link building plus content package, the least tier is $20,000 monthly for 8x long form content and 8x editorial mentions.
What We Like
uSERP takes a concise and goal-driven SaaS marketing strategy to earn links from only top publications with a DR of at least 60. They also provide unique SEO plans and content roadmap in order to fully maximize the effects of your link building campaign.
What We Don't Like
Having to pay $10,000 per month without content or $20,000 with content is way too expensive even for some large companies. So uSERP's services are definitely not for new SaaS startups and SMEs.
Client Satisfaction: 4/5 ⭐
#3 Link Building Agency: Vazoola
Vazoola is a cutting-edge link building agency with a signature of bounty express strategy where you get to choose your budget, define link campaign and content requirements. With this approach, clients don't have to follow rigid pricing packages or wait for too long while getting undesired results.
Core Services
Some of the main services provided by Vazoola includes:
Link building services
White label link building
Content marketing
Bounty express link building services
SEO
Pricing
Vazoola provides access to a price control feature which allows you to choose your preferred budget based on quantity and quality of needed links. So you only pay what you have and get equivalent services for what you pay. They also charge an additional monthly management fee of $99 to $149.
What We Like
Vazoola has been around for decades, and their team has sufficient expertise with time-tested frameworks to build links that truly matter. Moreover, their bounty express approach and price control feature give new startups and SMEs with tight budgets a way out.
What We Don't Like
Customers have to pay an extra $99 to $149 which is a separate fee from the link building cost. Although Vazoola claims it is for management, that might not really be ideal since you still need to pay for the links you get.
Client Satisfaction: 4/5 ⭐
#4 Link Building Agency: Link Builder
Link Builder is another SaaS link building agency that has a strong work record with companies like MachineryEcommerce, IdentityGuard, and SnackNation. They have a vast library of previous successful link building projects and boast of extremely tangible results.
Core Services
LinkBuilder offers:
SEO
Link Building
Content marketing
Pricing
The average cost per link built is $399 but you can only order in packages. The pro package starts at $5999 per month for 15x links while the growth package is $9999 for 27 links.
What We Like
Link Builder is an experienced SEO and link building agency that has worked with many reputable companies. Moreover, they provide a custom reporting dashboard for customers to see progress updates in real-time.
What We Don't Like
Link Builder pricing is a bit high; besides that, they don't offer domains in advance to let clients choose from the list. Also, you can't be certain of link quality as their package just guarantees minimum DR to be 50 and a maximum of 90. That's a gambling strategy.
Client Satisfaction: 5/5 ⭐
#5 Link Building Agency: Stellar SEO

Stellar SEO is a cutting-edge agency that helps SaaS brands increase online visibility on search engines through quality link building. Their approach includes competitor link prospecting, segmentation, content review, and outreach to websites like SEJ, SEMrush, and Quicksprout.
Core Services
Some of the core services offered by StellarSEO are:
Custom link outreach
Blogger outreach service via guest posting
White Label link building
Pricing
The cheapest link building plan starts at $297 per link from websites with a DR of 30 and 1k+ monthly traffic only. If you want a higher DR like 40 and 50, you will have to pay $397 and $600 per link respectively.
What We Like
Stellar SEO is an affordable SaaS link building agency that also offers secondary services such as SEO and digital marketing. Their prices are very competitive, and they have a very organized link building process.
What We Don't Like
StellarSEO's plans are ridiculously too expensive for a DR of 30 – 50 and a target website traffic of 1k+ monthly. Besides that, they don't focus on any particular metric which makes it difficult to determine the referring domains' ranking capability and how well it contributes to your overall SEO results.
Client Satisfaction: 5/5 ⭐
#6 Link Building Agency: Linksthatrank
LinksThatRank is one of the SaaS link building agencies that has made their service approach more methodical by utilizing the 23 point quality control review. Each review takes care of proper placement of links, blog posts, and X-robots-tag on target websites. This in turn ensures you only get topnotch links that drive more juice to your page.
Core Services
Similar to other agencies, LinksThatRank provide:
SEO services
Link Building
Technical website audit
Content + link building
Pricing
LinksThatRank uses the pay-per-link model. The least pricing starts at $177 for a link with DR of 20 to 34. You can also get a link with DR of 35 to 49 at $247 while links with DR of 50 to 80 is $327.
What We Like
Linksthatrank is an affordable SaaS link building agency that offers great value for your money. They also offer exceptional services and ensure your links are 99% spam-free.
What We Don't Like
The cost for quality link acquisition from a website with more than 50 DR is too high. Moreover, the target websites only have 500 visits per month.
Client Satisfaction: 4.7/5 ⭐
#7 Link Building Agency: Siege Media

Seige Media is primarily a content marketing agency that also specializes in link building and traffic growth through SEO. Some of the notable brands they've worked for include Airbnb, Chime, QuickenLoans, and IntuitMint.
Core Services
The core services offered by SeigeMedia are:
SEO
Content Marketing
Link Building
UX Designing
Design Development
Pricing
The average Per Link Cost from a website with a DR of 40 to 50 is around $250. SeigeMedia does not have an exact pricing plan and they charge based on the quality of target publication.
What We Like
Siege Media is a popular SEO, content marketing, and link building agency with competitive pricing. What's more is their approach of using UX and illustrative designs to create link building opportunities.
What We Don't Like
SeigeMedia is not a pro SaaS link building agency and lacks a huge database from which they can provide links quickly. Their pricing is also a bit too high on the hill despite getting links from sites with low DR.
Client Satisfaction: 4.9/5 ⭐
Our Verdict
All the SaaS link building agencies we reviewed had their strong points in the area of SEO, content marketing, and even ingenious approaches to link building. However, most of them have ridiculously high pricing packages except Digital Gratified.
Digital Gratified helps you get high quality links with a DR of at least 50 and as high as 95 from sites like Hubspot, Custify, Envato, etc. This ensures new startups, SMEs, and even large businesses with limited capital can still create a robust backlink profile and gain traction on the internet without breaking the bank.