Link building is one of the most powerful SEO strategies to rank your website on Google favorably. But I must concede to you that link building is not an easy task. This is a matter of fact that you should keep in mind. It takes a great deal of effort to achieve it. Usually, players have to be willing to spend serious money to build the desired backlinks they want.
Of course, you can also generate backlinks organically. This works in such a way that when you create high-quality content, people who find it interesting are willing to link to your site. Creating high-quality content will earn your site many endorsements, so you will start to organically get links referring to your website.
Speaking of authoritative content, what is it, anyway?
However, you could be a good blogger, or a good storyteller and still you fail to capture the external linking endorsements as much as you need. This means, that creating high-quality content doesn't automatically guarantee naturally or organically getting backlinks to your site from other websites, especially in the long term.
Yu have to lay down a clear strategic plan for link building that could drive the best SEO results you need. So in this article, you will get almost every crucial information you need regarding link building pricing to get started with link building for your domain.
You will know what link building means for your Website SEOs
How to find the best backlinks? What do they look like?
How much will it cost to build backlinks for your site
The most recommended link building best practices
How to find the right people to help you build the right backlinks you need
Brace yourself as it's going to be an interesting ride while you read through.
Link Building & Search Engine Rankings
Over the years, search engines like Google have been perfecting the best way to deliver high-quality search results to users. Google wants users to be exposed to content that offers meaningful value. There are key standard metrics that the Google Search Algorithm has, known as PageRank, to rank websites in its search results.
PageRank uses many factors to decide SERP ranking, and one of them is the number of external links, the backlinks, or outbound links referring back to your website.
Let's say you run a blog website and have various articles you've written on your site. And there are so many other websites referring to your blog articles, Google's PageRank will assume that your content is useful to users and so, it will take a decision to rank it higher so users can find it.
Ideally, you need to know that not all backlinks you create are equal. Google's search algorithm needs to be sure that the content they deliver in its search results is actually useful and it is exactly what users are looking for.
Winning the best search ranking position on search engines like Google won't come easily just because you have a couple of high-quality backlinks to your website. Of course, quantity matters, but also the quality is very important to Google. In simpler words, you will need many many good backlinks.
What Is A Good Backlink?
In the process of building links to your website, you need to prioritize quantity, as well as QUALITY. You can have a lot of backlinks but Google finds them useless, and could even lead to the penalization of your site. This is why you need to be extremely cautious to avoid link building practices that could get you blacklisted by Google.
Now, here are the characters that a good backlink;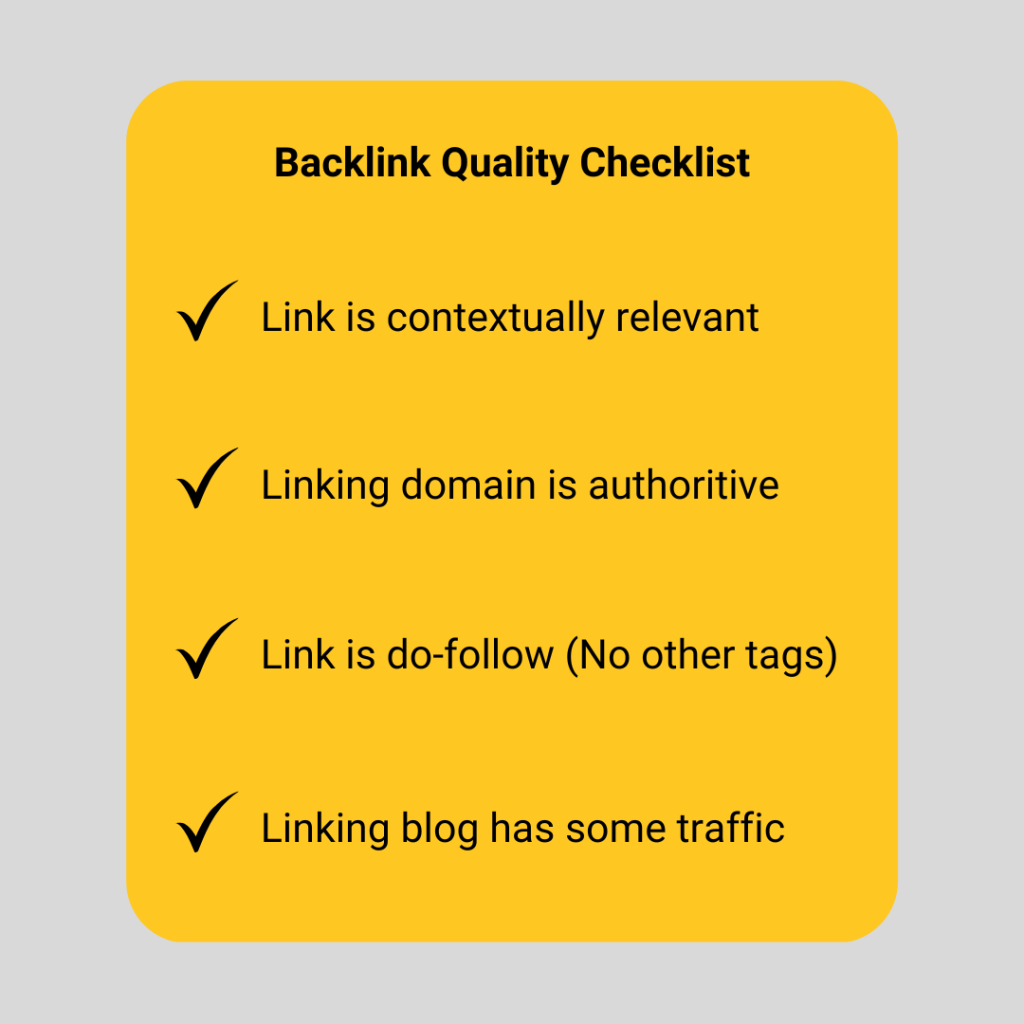 It Should Look Natural
Google interprets a good backlink as one where a website owner naturally decides to link back to your content after finding it useful. Website owners don't want to refer their users to other websites with useless or controversial content. But when they make a decision to link back to your site, your content has earned their endorsement. And Google will not treat that natural endorsement lightly.
It Should Be From Reputable Source
Google loves reputable sources. I mean sources that have earned users' credibility. For example, when your article earns an outbound backlink from sources like the BBC, CNN, Forbes, or TechCrunch, Google will be in a position to treat your content as authoritative. This is because some of these sources I'm singling out here are highly respectable and naturally considered authoritative by Google.
Let's say you have a technology article on "how to remove antivirus from your computer". It's well-written content and has every feature that can qualify it to rank favorably in Google SERP.
On the other hand, website like TechCrunch writes about the same topic just as you did. Now, what happens is that Google will give a favorable ranking to the TechCrunch article and ignore your content. Why? Because TechCrunch has a reputation with probably millions of monthly visitors and millions of backlinks referring back to its content.
Now, assuming TechCrunch or any other reputable website refers back to your content, Google will assume that your site is good for its search users, and therefore, you're likely to earn a favorable ranking position in the search engine.
It Should Be Set To Do-Follow
Did you know that you can prevent a link from getting indexed by a Search Engine?
For example, when you add the No Follow attribute to either inbound or inbound links, Google will ignore them, by assuming that you don't want Google to consider them for SEO calculations. This further takes us back to what I said earlier in this article not all backlinks are created equal!
You can have so many outbound links, referring back to your site, but they don't offer any SEO value because the website owners add a no-follow attribute to the links.
Good backlinks should be configured to allow search engines to consider them for SEO calculations.
Website owners have to be so generous not to add a no-follow setting to the links that refer back to your site. This also depends on whether the people doing it understand the technical aspect of doing it. Of course, the biggest number of website owners out there who are likely to refer back to your site won't necessarily add a no-follow to the outbound links on their websites.
It Should Be Able To Fetch Traffic
One of the factors that determine a good backlink is its ability to refer a substantial amount of traffic to your site.
Of course, this is unrelated to SERP ranking but it is also important to this topic. The reason why you want to have your site ranked favorably in SERP is to refer a good amount of traffic to it. When your site doesn't have desirable traffic, it will be useless. In fact, what gives any website value is the amount of traffic it receives per day, month, and year. More traffic means more value and eventually more money for yourself.
Now, high-quality backlinks from sources with good traffic will increase your own site traffic in a way you've never imagined before. For example, sites like CNN, BBC, or Fox news receive tens of millions of visitors per day. And at the end of the month, their traffic is hundreds of millions of site visitors. Assuming, one of these sites writes an article with a link that refers back to your site, it's likely that your website will benefit from their traffic hence giving you the value you need.
It Should Be Unique
Getting referring links from the same source could end up not delivering the best results you need from a Google search. According to Ahrefs, around 80% of websites get backlinks from the same websites. But according to research findings by Backlinko, they found out that having more links referring to the same domain could tremendously affect your Site's SEO rankings leading to diminishing returns
Now, the most desirable backlinks are those that come from unique sources. When you're getting multiple outbound links from similar websites, this is something that will drastically impact your site.
The Link Building Economy – Should I Purchase Backlinks?
Without any doubt your website needs traffic, and building backlinks is one of the key strategies you can employ to get it. Your link building capacity will determine how your site is perceived by the Google search algorithm.
You need to have a good content plan to naturally attract natural and high-quality backlinks. But even having good content will have to take some time in order to be noticed. So, you definitely need to see good SEO results in a short time.
The best way is to consider purchasing backlinks for your website. A lot of players are using this very strategy to enrich their overall SEO plan. As the saying goes; the more you give the more you get, you have to give in the form of spending to get the best SEO results you need.
How Many Backlinks Does My Website Need?
In Search Engine Optimization, there is something called keywords. A keyword is a term or a phrase that uniquely describes what your website content is all about. Let's say you would like to compare various web hosting providers in your article, the keyword that will commonly appear in your article will likely be hosting. So, hosting as the keyword will constantly appear in your writing which helps the search engine to determine what your article is all about.
Keyword Difficulty & Backlinks – Why Does It Matter?
Now that you've understood what a keyword is. But I will like to introduce you to another important term which is keyword difficulty
What Is Keyword Difficulty?
I can tell you it's going to be extremely hard to have an SEO breakthrough when you try to tackle topics with high competition keywords. If you're willing to take the risk, then you must be willing to do the extraordinary by building the links that could add SEO value to your content.
Assuming I use X/10 to measure how competitive a keyword is, it's perfect to say that the higher the score, the more competitive that keyword is. For example, when I determine that the topic I'm writing about has a keyword difficulty score of 80 out of 100 (80/100), then this will mean that this keyword is highly competitive. And so, you will need to have a lot of backlinks to your content in order to penetrate the competition.
How Is Link Building Price Determined?
Before making a decision to purchase backlinks, there are crucial factors you need to understand;
The Number Of Links You Need Matter
You need to first have an idea of how many backlinks you need to purchase. More links mean that you will have to spend thousands of dollars to achieve what you need.
Here, I intentionally smuggled in the term keyword difficulty with the sole purpose of letting you understand how the number of backlinks you intend to acquire could correspond with how competitive your keyword is.
As I said before, a highly competitive keyword will definitely need you to have more backlinks referring to the content you've written. To achieve the desired objectives, you will need to purchase hundreds or even thousands of backlinks. But this should also be done with extreme caution. You don't want to burn your dollars on purchasing links without understanding how much return on investment they can bring in.
If you're planning to buy high-quality links, be prepared to spend. By definition, high-quality links mean links from authoritative websites with a substantial amount of traffic. Link building pricing from a good authoritative source would likely be anywhere between $100 to $1000+
The Industry You're Operating In
Undoubtedly, operating in a highly competitive niche is very expensive. To put it directly, it's expensive in terms of search engine optimization and finding a desirable traffic breakthrough for your site. Niches like Real estate, fashion, and retail are not as competitive as business, SaaS, finance, development, and eCommerce. There are many established players operating in these niches already, and if you're just a newcomer, you will need to do more so you can beat them.
Now, assuming you would like to get some backlinks using white hat approaches, you will need other platforms that accept things like gust-posting. Let's say you're operating in a technology niche; you will have to reach out to other high authority websites. But you need to know that many of these platforms will charge you a good amount of money for just posting. Link building prices for such guest posts could be from $100 to over $600.
The Quality Of Links
To get the most out of your investment, it's important to build links that can offer real value to your website in terms of facilitating your search engine rankings. Link building pricing for low-quality won't be much. They range from a couple of bucks to $100+.
Remember, cheap things are not so cheap as you think. Link building prices for cheap backlinks would be more as you keep gathering them but over time, you're likely to realize that they're not bringing in the results you badly want. And so, it's important that you choose high-quality backlinks.
A decision to purchase expensive backlinks may seem unfeasible but in the long run, you will be able to appreciate the return on investment you get. High-quality backlinks are those that come from high authority domains and are deemed by Google as having high authority content. Now, you can get such links either through guest posts, niche edits, link exchange, etc.
According to Ahrefs, link building prices for high-quality domains range from $100 up to over $20,000. But again, you need to do the right math here to avoid miscalculations that could cost you money without understanding properly the return on investment.
Inhouse Link building Vs. Link Building Agency
In most cases, if you're running a content publisher entity, let's say you run a couple of blog sites for your content, you will need to have a dedicated SEO team that can come up with the right plan to create backlinks that your sites need to rank favorably in Google. Usually, building an SEO team needs time, the right people, and generally, enough resources to do it. This kind of approach could be the right way, but it's important to keep link building price associated in mind.
A robust in-house SEO team can range from 5 to 100+ people. And all of them need to be properly renumerated well so they can do their jobs as needed. At the end of the month, you will notice that you're spending tens of thousands of dollars on just catering for the salaries of your SEO team. But again, just a mere team without the right tools and platforms won't bring the results you need. This basically means that you will have to cater to your teams as well as design the right arrangements to build the links you need.
Also, on average, a team member would be able to build five average to high-quality backlinks, so if your link building target is to acquire 20 – 25 backlinks a month, then here is a link building cost graph for you accordingly.
Link Building Price If You Do It The Agency Way?
Well, most publishers may choose to just hire a link building agency to do everything for them. This could be a lot easier, cheaper, and affordable compared to assembling a link building team. Basically, you need to find a reputable SaaS digital marketing agency to help you design the best plan on how to acquire high-quality backlinks without burning your money. The truth is, you need to engage with experienced experts to help you get the right picture of what you want.
Also, regarding link building cost, here is a graph for how much it will cost to build 20 – 25 backlinks a month.
How Much Does It Cost To Build Backlinks In Summary?
Here is a summary of how much it can cost to build backlinks;
Link Building Pricing By Link Quality
A low-quality backlink can cost from $60 – $100
A medium-quality backlink can cost from $100 – $200
A high-quality backlink can cost from $200 – $20,000
Link Building Pricing By Niche Or Industry
Getting links from high-performing niches is likely to cost you between $100 to $50,000. It can also depend on the link lifespan and the amount of traffic the referring site can offer
How To Get Started With Link Building?
This Is An Estimated Link Building Pricing. Actual Cost May Vary.
At Digital Gratified, we help clients to design the most performing digital marketing journeys with tremendous potential to offer high ROI. Let's work with you on how to build the best backlinks your business needs to achieve robust SEO breakthroughs.